Platforms for making money come in all shapes and sizes. The only other thing left for you to do is choose how you want to collect, from pay to click (PTC) sites to cash apps.
Money is made up of figures, which can be studied. With this in mind, more people have been signing up for online classes in the hopes of learning how to make more money. Courses can cover anything from bitcoin to startup advice.
The term "investment" remains one of the most influential in the financial community.
Join me today as we explore the Genesis Investing System, yet another online course seeks to educate people on how to better invest in private companies.
Is it legit? Or Is it a new scam? Let's see what we can learn!
What is the Genesis Investing System? ​
Matthew Milner (founder of Genesis Investing System) uses a series of training and secret recommendations to help you pursue lucrative investments in private businesses on a regular budget. According to Matthew Milner's explanation on the program's website, this is what GIS (Genesis Investment System) is all about.
Until we move any farther, let's define Genesis Investment. In brief, Genesis Investment occurs anytime a business allows people to participate in an equity crowdfunding mechanism. Crowdability refers to organizations that provide customers with valuable educational resources and knowledge to create suitable investments.
Small enterprises and startup firms will profit from this because they need money to establish a company or launch a product. This community of investors will assist them in obtaining this financing.
We are returning to our original subject, the Genesis Investing System.
The GIS strategy is a global strategy that allows everyday citizens to participate in this industry for as little as $100 to reap equity crowdfunding rewards.
According to Matthew Millner, the GIS is a valuable educational program that he created due to his extensive background and hard work in the field, and it has benefited many people who have used it.
Another advantage of this course is that it has been featured on well-known economics networks such as the Wall Street Journal and prominent publications such as Forbes, which lends credibility to the system.
---
Recommended Reading:
---
The Early Stage Playbook
This immersive training course with 12 video lessons shows people how to use crowdfunding to invest in early-stage businesses.
About 30 venture capitalists & angel investors contributed to the development of the course. Matt and Wayne consulted over 30 venture capitalists and angel investors to bring this course together, in addition to their own experience.
Members can learn how to study and discover successful investment options on crowdfunding sites, emphasizing early-stage investments. However, there is a wealth of additional material available, including lessons on investing in pre-IPO firms, which is a "later-stage" versus what we usually mean when we hear "early-stage," purchasing private equity in your 401k or IRA, and much more.
The lowest level of Early Stage Playbook (there are three pricing options) is usually $250, but via the funnel, I was pulled in, there was a discount with a one-time payment of just $39.
Private Bond Opportunities
The Genesis investing system will show you how to obtain private bonds. They do, though, pose a greater risk than government-issued bonds.
Special Shark Tanks Reports
They can demonstrate how this functions in this. This means they'll bring you two real-life illustrations of how others have invested their money with their support. Well, it's a positive development on their part.
60-Minute Angel Investor
A guide to help you select businesses in which to spend your funds without revealing your identity.
49 Pre-iPO Investments
They will teach you how to invest capital safely and with minimal risk. They'll be for small businesses and case studies that you'll make official. As you can see, the Genesis investment system's primary purpose is to educate people on investing in low-risk private companies.
Before introducing this course, only a small number of wealthy individuals had access to such case studies and investment opportunities.
Who Is Behind Genesis Investing System Exactly?
Matthew Milner is one of Genesis Investors' co-founders, but a little digging reveals that Crowdability introduced this program in 2013. But how did Matthew come up with the idea for this product?
Before actually launching GIS (Genesis Investing System), Matthew worked as a stock trader. Still, he wasn't pleased with his ROI (Return on Investment), which prompted him to look for other ways to make money when Genesis Investing System was born.
The goal of GIS is to make investing more accessible to ordinary people so that online investing is no longer limited to millionaires and wealthy individuals. Everyone on any budget can try their hand at making some extra cash.
How Does the Genesis Investing System Work?
The system is regarded as a game-changer in the investment world. Rather than advising you on how to invest in the stock market, where your money can disappear in the blink of an eye, the method focuses on equity crowdfunding. Since the Genesis Investing System is the product of dynamic developments in financial technology, fully comprehending it necessitates a broader understanding of how it operates.
Here is where Crowdability plays an excellent role for you.
All you have to do is listen and practice what they discuss in their classes, and the company will understand for you. The course, according to my analysis, will break the framework down into three steps:
A – Allocate
When it relates to this industry, you must first determine how much money you need or should spend. With that in mind, the first thing this system can show you is how to figure out how much money you'll need to bring out of your wallet.
S – Screen
As much as we'd like to help small companies and entrepreneurs succeed, not all of them are worthwhile investments. The course would then show you how to pick which businesses are worth your time and which are not, as harsh as it can seem.
E – Evaluate
The sun will set in the west at the end of the day, and whether you like it or not, you will always need to do some research. Don't worry; this course will show you how to do things correctly with these kinds of investments.
How Do I Start Earning?
The idea is that after you've completed the course, you'll have the necessary skills to get into Genesis Investing and be pretty (really) successful at it. The method of investing in companies and enterprises in their early stages so that you can sell the equities you've invested after they hit their height is known as genesis investing.
Large corporations have been making this form of expenditure for a long time. Meanwhile, we, mere mortals, have only had the opportunity to do so in the last decade by crowdfunding.
How Do I Get Paid?
Complete the course, get paid, sell, and invest.
Since this is an investment, you would sell your shares before receiving payment. You can get compensated in several forms by selling your equity.
This also allows you to return to the business and sell the stock. You may be able to offer the store to another investor or list them on a private-securities exchange. The idea is to help a small enterprise by donating to their crowdfund and only selling your stock until the organization has reached a specific profitability level.
I'll warn you right now that it takes time to reap the benefits of your expenditure. But here's the thing: neither Rome nor Rockefeller were built in a day. You will be paid, and it may or may not be in cash, but the decision is entirely yours. And besides, this is your piece of the pie.
What Do Genesis Investing System Users Have To Say About It?
The Wall Street Journal and Forbes have acknowledged the Genesis Investing System, but I haven't seen them mention it anywhere other than Crowdability's official website. Let's take a look at what people are saying about the system and the course on their website: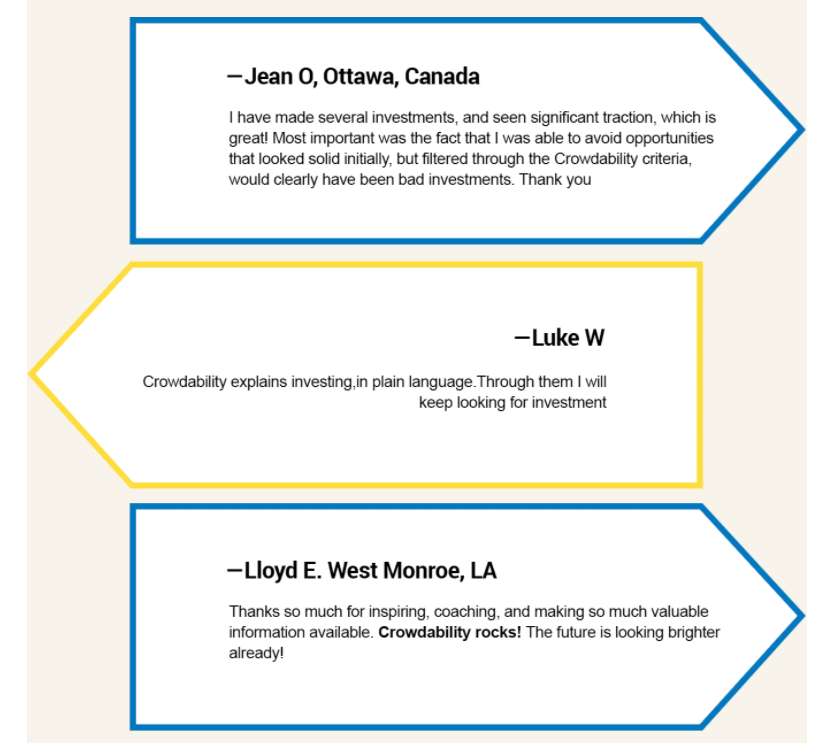 Hard-Hitting Truths Concerning the Genesis Investment System
PROS
The system's and course's creator is a well-known figure in the investment community.
And if you are new to the market, it is not difficult to enroll in the study and learn about genesis investments.
The Genesis Investing System's rationale is practical and straightforward to understand, and the course is rewarding to complete.
CONS
If you're searching for a quick path to becoming wealthy, this isn't the one for you.
This is simply a paid course that will offer you recommendations, and you will (most likely) struggle a few times before you get the hang of it.
Learning about it is an expenditure in and of itself because if you don't grasp the principles, your subscription can be wasted.
Is the Genesis Investing System a Scam?
After all of my research into this program, I can now confidently state that Genesis Investing System is an entirely legitimate training platform. Of course, it would not render you wealthy in a matter of days or weeks. However, it will attempt to teach students how to spend appropriately.
However, once you plan to join the investment world, you can expect to lose money since it is challenging to be a millionaire in the equity market all of the time. Many investors in various countries use GIS strategies and incorporate them into their decision-making to create profitable trades, and you could become one of them as well.
Final Thoughts
One of the main problems I have with the whole sales pitch for this investment opportunity is putting on massive profits when absolutely no note is made of risk. The truth is that investing in early-stage startups by crowdfunding is a dangerous proposition. Yes, you might make a lot of money… but most of the businesses mentioned on these crowdfunding sites would struggle, and you must keep in mind that the reason they are listed on these platforms in the first place is mostly that venture capitalists refused to invest in them.
The "Playbook" does include guidance on risk mitigation which can assist in this way – it goes over the assessment and appraisal phase to root out the businesses that are too risky – but business is always tricky.
On a more optimistic note, one aspect of this course that I particularly enjoy is that it is a training course that teaches people how to become successful early-stage investors in their very own right. This is equivalent to teaching a man to fish rather than just handing him a fish like most investment advice services do.
Overall, it seems to be a decent course, but it isn't for everybody. This is not for you if you are short of cash and can't afford to spend more.
---
Recommended Reading:
---